Patterson's Barbecue Pork®
Patterson's BBQ Beef and Patterson's BBQ Pork were developed using Patterson's Hot Dog Chili as the benchmark. It was produced to be the best canned BBQ available. Patterson's BBQ Beef and Pork are cooked over wood to lock in a unique smoky flavor. This process is followed by canning the product in Patterson's own barbecue sauce recipe. The result is a superior BBQ with 100% meat and no waste.
Nutrition Facts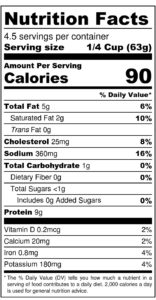 Ingredients:  Barbecue Pork with Skin in Barbecue Sauce Consisting of Water, Textured Vegetable Protein (Soy Protein Concentrate, Caramel Coloring), Vinegar, and Less than 2 Percent: Tomato Paste, Salt, Paprika, Flavorings, Smoke Flavor, Sugar, Powered Worcestershire Sauce (Vinegar, Molasses, Corn Syrup, Salt, Caramel (Color), Garlic, Sucrose, Spices, Tamarind and Natural Flavor) and Maltodextrin, Contains Sulfating Agents. Contains: Soy.
Customer Reviews
the best can BBQ that I have ever eaten
You have the best can BBQ that I have ever eaten. I think it's the only BBQ on the shelf and happy to see it. Love BBQ! I am very busy, coach football in Birmingham, AL and this is a quick, very tasty meal. Great for tail gating too! I will look for your other foods items in the store.
the next best thing to cooking BBQ for hours on my grill
Thank you, thank you, for a great can BBQ. I have never eaten any can BBQ meat that has this quality taste. This is the next best thing to cooking BBQ for hours on my grill. It's so easy for me, just heat and eat. Back in 1929 Mr. Chicken Comer opened a BBQ shack in Phenix City, AL and he got up at 4 am to get his BBQ cookin'. We could smell it 6 blocks away. It basically wasn't about the BBQ but about old man Comer's sauce. It is a mustard sauce. We would have a pound of BBQ on our plate and 6 slices of bread. Would take a bit of meat and dip the bread into the "hot as hell" sauce that I have ever eaten, chase it with a RC cola and "hold on". Would repete this step until finished. We left a happy customer. I can now buy Mr. Chicken's sauce at the restaurant. I added a bit of Chicken Comer's sauce to your Pork BBQ and it gave it that "hot kick" taste and was wonderful!!! I will buy more from Publix. Happy customer. THANK YOU!
Recipes
Buffalo BBQ Pork or Beef Dip – Ingredients: 2 (10 oz.) cans Patterson's BBQ Pork or Beef – un-drained, 2 cups shredded cheese, 2 (8 oz.) pkgs. cream cheese, softened, 1 cup Ranch dressing, 1/2 cup Tabasco sauce. Directions: Combine all ingredients. Cook in crock pot on "low" for (1) hour.Serve with crackers, chips, bread or celery sticks.
Southern Wontons – by Brenda Day – winner of the 2010 Buy the South's Best Food Recipe Contest. Sponsored by the South Eastern Food Processors Assoc. Ingredients: 1 – can Patterson's BBQ Pork, 2 tbsp cilantro – finely chopped, 1 tbsp thinly sliced scallions, ½ cup soy sauce with ginger, 2 tbsp Texas Pete Hot Sauce. Directions: Mix 1 can of Patterson's Barbecue Pork with half of the cilantro and half of the scallions. Reserve the remainder for a garnish on top of the wontons. Fill with 1 tbsp of the mixture into the middle of the wonton.  Fold wonton over into a triangle and wet edges to seal the wonton mixture.  Fill all of the wontons. Heat a large frying pan over medium heat and spray well with cooking oil or an oil spray. Place wontons in pan and brown on each side.  Pour ½ cup water into the pan.  Place a lid on top and cook on low heat until water is absorbed. Pour the mixture of soy sauce and Hot Sauce on top of the wontons.  Scatter the remaining cilantro and scallion on top. Turn off heat and return lid to the pan and let sit for 5 minutes.  Serve on a tray with additional soy ginger sauce.This recipe serves 4 to 6 as an appetizer.
Retail Locations
Wal-Mart Supercenters: Stores in NC, SC, MS, AL, GA, TN, VA, WV, FL
Reidsville Grocery Company: Stores in Reidsville, NC distribution center
Supervalu: Stores in AL, FL, MS