Mrs. Fearnow's Brunswick Stew®
Lillie Pearl and Brady Goshen Fearnow came to Mechanicsville, Virginia in 1919 from West Virginia. Lillie always had a pot of Brunswick stew brewing for kinfolk visiting from across the mountains.
Lillie Fearnow soon started to enter her stew at the State Fair. She won blue ribbons and found herself packing jars for the food departments in several local department stores.
By 1946 her two sons joined in establishing her cottage industry into a full  time business. Mrs. Fearnow was one of the "Greatest Generation," the ones who pulled themselves up by their bootstraps to survive. She worked with family members to provide extra money by selling stew during the Depression. The business quickly grew to be too much for the family kitchen so they purchased a second farm and cannery  in Hanover to harvest vegetables. The property was named " Hope Farm ". The stew, found in a bright yellow can in the canned meat section of many grocery stores, is a tasty, stick to your ribs recipe, of tender chicken, potatoes, tomatoes, lima beans, onions, corn, carrots, parsley, special seasonings and spices.
Mrs. Fearnow's is a southern family "blue ribbon" winning recipe, a taste that is sure to please. Order online or purchase in your favorite grocery store. Mrs. Fearnow's Brunswick Stew is made in the USA. It meets the need for home meal solutions. An excellent storm preparedness item and great value for "not from scratch" cooking. A true southern style delicious taste. Great for camping, tailgating, and a quick meal before the Friday night high school football game.
Nutrition Facts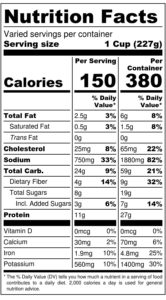 Ingredients: Tomatoes, (Tomatoes, Tomato puree, Salt, Citric Acid), Chicken Stock, (Water, Chicken Skin, Chicken Broth), Potatoes, Chicken, Corn, Carrots, Lima Beans, Sugar, Salt, Dehydrated Onion, Parsley, Black Pepper.
Customer Reviews
I have been fixing your Delicious Brunswick Stew with Chicken for years. I had moved from a state that sold it to a state that used to sell it. I have to buy online now. It took me a while but I found it!
Good day to you all. Just wanted to THANK YOU for carrying on the Mrs. Fearnow's Brunswick Stew!!! I am from Richmond VA and have lived in SC for 30 years now——I still get to buy it!!!!! Fact is that I grew up eating it – at home, camping trips, vacations (when we took our camping stove in the cheap living days). This is a great product and great brand – just like my Aunt Louise used to make it in Emporia, VA.
I have enjoyed Mrs.Fearnow's brunswick stew
I have enjoyed Mrs.Fearnow's brunswick stew since my grandmother in Danville, VA first served it to my brother and me as kids. I buy it at Kroger in Raleigh, NC.
Recipes
Most families enjoy Mrs. Fearnow's in a bowl, accompanied by cornbread or biscuits, or atop cooked rice for a twist on an old favorite.
Retail Locations
Wal-Mart Supercenters: Stores in NC, SC, MS, AL, GA, TN, VA, WV, & FL
Costco Wholesale: Stores in VA
Kroger Stores: Stores in NC, SC, VA, & WV
Martin's Supermarkets: Stores in VA.
Adams Wholesale: All Stores.
Harris Teeter: Stores in NC.
Joyner's Supermarket: Stores in Fremount, NC.
M.R. Williams, Inc.: Supplying stores from their Henderson, NC distribution center.
Nash Finch: Supplying stores from their Lumberton, NC distribution center.
MDI: Supplying stores in SC, GA, TN, VA, AL, WV, OH, FL, PA, KY & NC. Stores include Galaxy Food Centers, IGA, Piggly Wiggly plus other independent retailers.
Farm Fresh Supermarkets: Stores in VA
SuperValu: Stores in VA