Beverly Sausage has been a favorite with Southerners for several generations. Heat sausage; add egg for a hearty meaty breakfast and serve with grits, fried mush or toast. Beverly Sausage is fully cooked, ready to heat and serve.  Beverly Sausage is a Boone Brands product made in Sanford, NC.
Nutrition Facts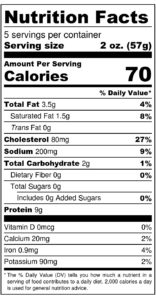 Ingredients: Pork Stomachs, Beef Tripe, Beef, Beef Heart Meat, Water, Wheat Flour, Pork, Salt, Vinegar, Spices, Sodium Nitrite
Contains Wheat
Customer Reviews
[ultimate-reviews post_count='5′ product_name='Beverly Bulk Sausage™']
[submit-review product_name='PENDING Beverly Bulk Sausage™']
Recipes
Southern Meatloaf –
Ingredients: Qty. 1 – 10 oz. can Beverly Bulk Sausage,  2 pounds of ground beef, 1 cup dry bread crumbs, 2 teaspoons salt, ½ teaspoon pepper, 1 large egg, 3 tablespoons of butter, ½ cup hot water. Directions:  Set oven to 350 degrees.  Place the hot water into a large mixing bowl and melt butter.  Stir until completely melted.  Add all remaining ingredients and mix well.  Place mixture into a loaf pan and bake.  Cook meatloaf for approximately 40 minutes or until an internal temperature of 170 degrees has been reached.  Serves 6-8.
Retail Locations
AWG (Associated Wholesale Grocers): Stores in TN, LA, MS, & AL. Stores include Thriftway, IGA, Price Chopper, Rouses, Jerry Lee's, Cash Saver, and Price Chopper plus other independent retailers
Associated Grocers of the South: Stores in AL, MS, GA.  Stores include Sav-Mor, Fairway, Grocery Outlet plus other independent retailers
Ingles Supermarkets: Stores in AL, GA, SC, NC
Laurel Grocery Company: Stores in KY
Piggly Wiggly: Stores in AL, MS, TN
Wal-Mart Supercenters: Stores in NC, SC, MS, AL, GA, TN, VA, WV, FL
Bargain Food Store: Stores in Pelzer, SC
M.R. Williams, Inc.: Stores in Henderson, NC distribution center
Nash Finch: Stores in Lumberton, NC distribution center
Supervalu: Stores in AL, FL, MS
Asheboro Wholesale: Stores in Asheboro, NC distribution center
Reidsville Grocery Company: Stores in Reidsville, NC distribution center
H.T. Hackney Company: Stores in Newton, NC distribution center
IRA Higdon Grocery Company: Joyner's Supermarket, Fremount, NC
W.Lee Flowers: Stores in Scranton, SC with retail IGA outlets in SC, NC, GA